Frameless glass shower doors are characterised by cleanliness, openness and elegance. The fact is, no matter how many times you replace your drab and cheap-looking shower curtain with another type of cloth, your bathroom will still look the same.
But there's also the question of functionality as well. Your shower curtain is just not sufficient to keep away those droplets of waters from spilling over into your floor. It can also easily be torn apart if you have some playful kids and pets in the house.
Here are just some of the advantages of installing a frameless shower door enclosure:
Permanence – you don't have to change your shower curtains every so often when it gets ripped, or when it develops moulds. Because it is made of tougher material, you lessen the risk that it might break.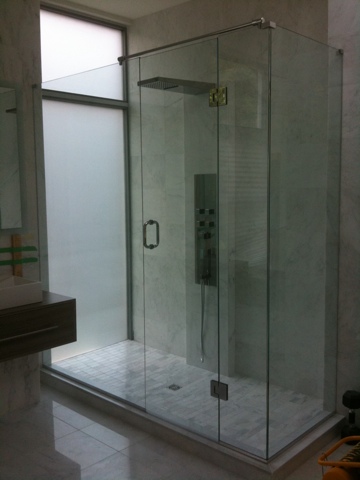 Attraction – frameless shower enclosures, even more than framed ones, introduces a sense of elegance and charm into any bathroom. You can immediately see the difference once the whole design comes together.
Openness – the shower curtain is bulky and can bring down the bathroom. In contrast, frameless glass showerswill open up any bathroom.
Cleanliness – due to the absence of frames, it's very simple to clean through the edges where grime and moulds can gather. The wide and clear surface makes it easy to spot stains and mildews.
Little or no maintenance – because there are no frames that can rust or ceiling tracks that can stain the floor, they require very little attention.
A frameless shower door also takes very little space in your bathroom as it only encloses the space already allotted for your shower area. So you don't have to manoeuvre around obstacles everytime you take a bath. It will not restrict the light source and on the contrary, it will only emphasise the natural lighting in your bathing area. That means you save on electricity bills as you won't have to turn on the light when you take a shower in the morning.
We offer you the option of installing the frameless shower door enclosure yourself or have one our team do it for you.